Blog
Brand Loyalty Is Under Fire: A Post-COVID Retailer Case Study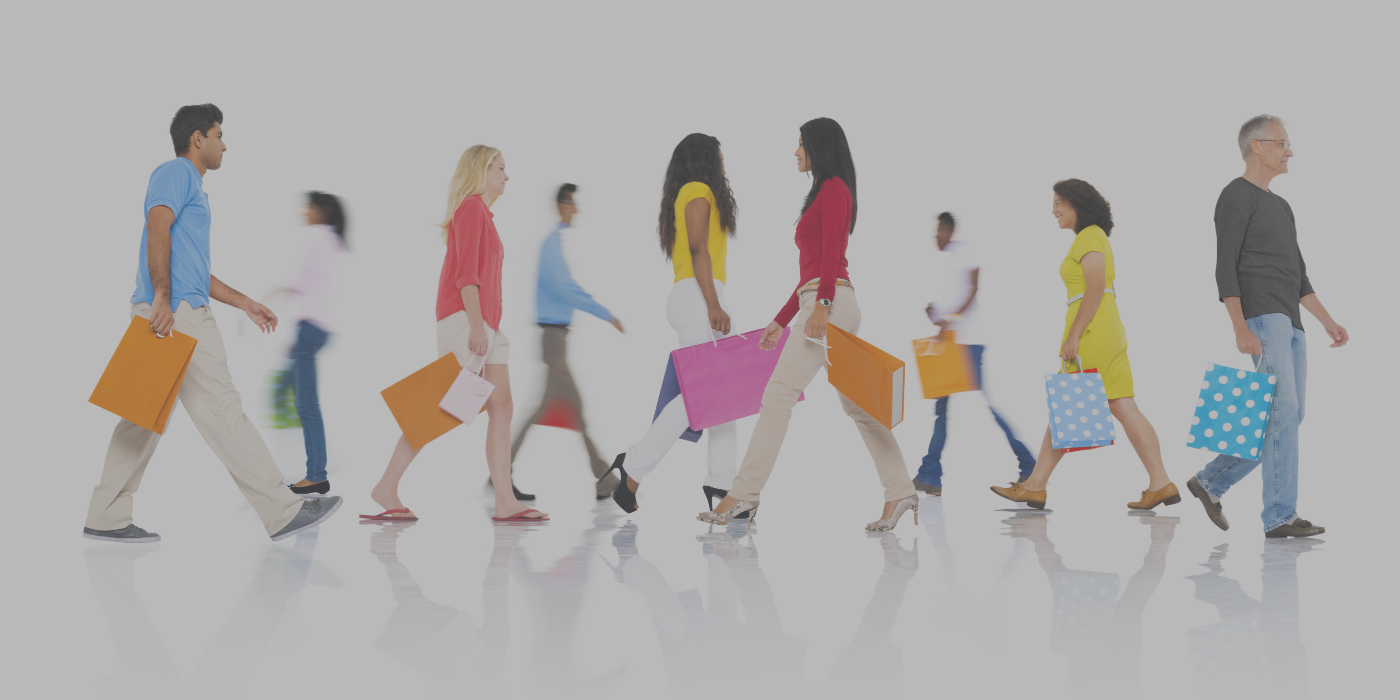 As part of Intalytics' recurring series on the impacts of COVID for marketers adjusting to a "next normal", we've been tapping into our Massive Mobile Data (MMD) for insights into how consumer's changing habits have the potential to impact multi-unit brands.
Previously, we've looked at how customer visit share is changing for a national fast-casual operator, including across dayparts. In this article, we explore customer profile shifts for a 200+ unit specialty retailer.
Two time periods are included in this study to help us understand the ongoing impact of COVID-19: a "shelter-in-place" period (Mar 15- Apr 15) to capture the immediate impact of stay-at-home guidelines, and a "relaxed" period (May 15- Jun 15) to identify what occurred as economies began to open up. Both time frames were compared to the same period in the previous year.
Customer visit share shifts during the shelter in place period did not begin to return to their prior year levels during the relaxed period. Instead, observed shifts in the customer profile during shelter in place accelerated as economies began opening up.
Share of visit shifts are clearly bifurcated. Share from lower income, younger, less educated shoppers without kids continues to increase, while share from higher income, older, more educated households with kids is shrinking.
There are signs that brand loyalists are no longer reliable.
Recommendations for marketers:
Shift media mix towards addressable from mass to keep the brand's message in front of those high value customers who are reducing visit frequency.
Increase messaging on health safety measures targeting families with children.
Regularly monitor customer profile shifts, particularly with respect to how sales and specials are attracting deal seekers who represent an ever-growing share of visits.
Notable changes in customer profile:
Visit share shifts as measured by shopper household income were dramatic. Year-over-year visit share gains from shoppers with household income of less than $50,000 or less accelerated to an average of +12% in the relaxed period compared to +9% during shelter in place. Share losses from households with over $100,000 annual income grew to -12% in the relaxed period versus -8% during the shelter in place period.
While this analysis only measures share of visits (and not ticket size), we assume that the shift to lower income shoppers carried with it a reduction in average ticket.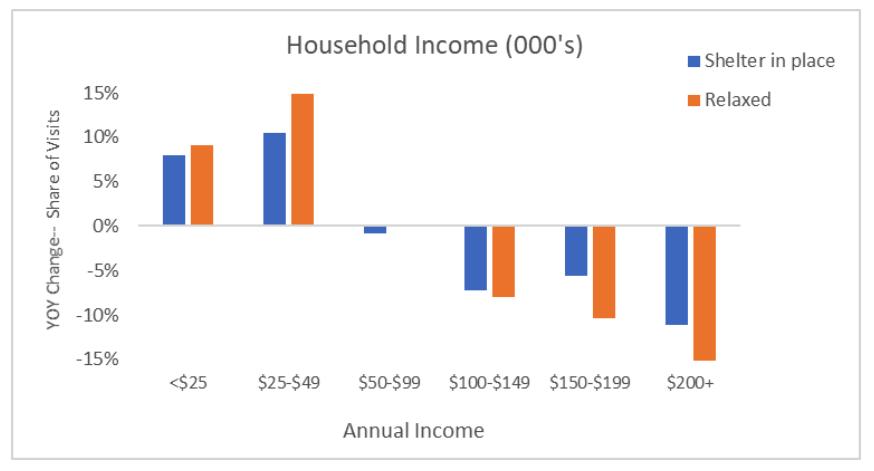 While profile shifts measured by income consistently accelerated during the relaxed period compared to the shelter in place period, when we looked at age of head of household, visit share changes stayed relatively stable. Share gains from younger households declined marginally during the relaxed period versus the shelter in place period, decelerating to +22% compared to +24%. Visit share losses in both the 46-55 and 66-75 year old groups accelerated marginally.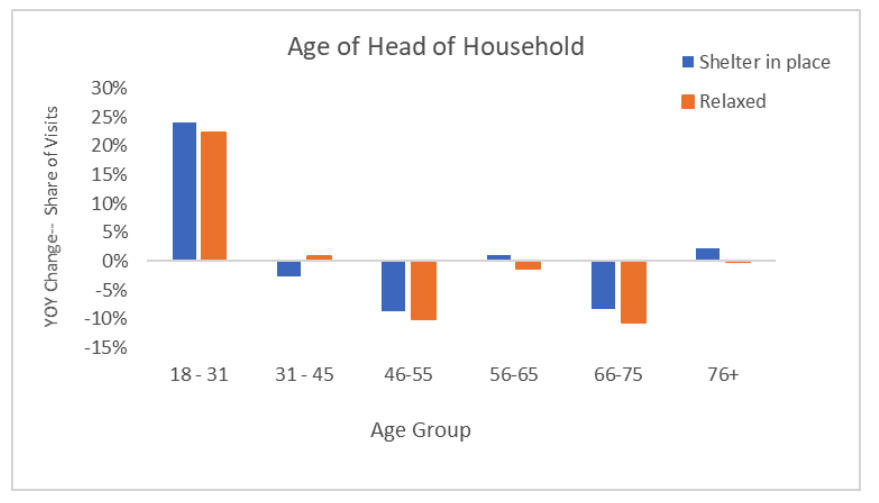 In addition to share losses from higher income households, this retailer—which is positioned to appeal to households with children—experienced accelerating share loss from families. Measurably positive visit share gains were observed only from single adult households without children. Households consisting of multiple adults with children visited less frequently during the relaxed period compared to shelter in place, as their share of visit loss accelerated somewhat to -10% from -9%.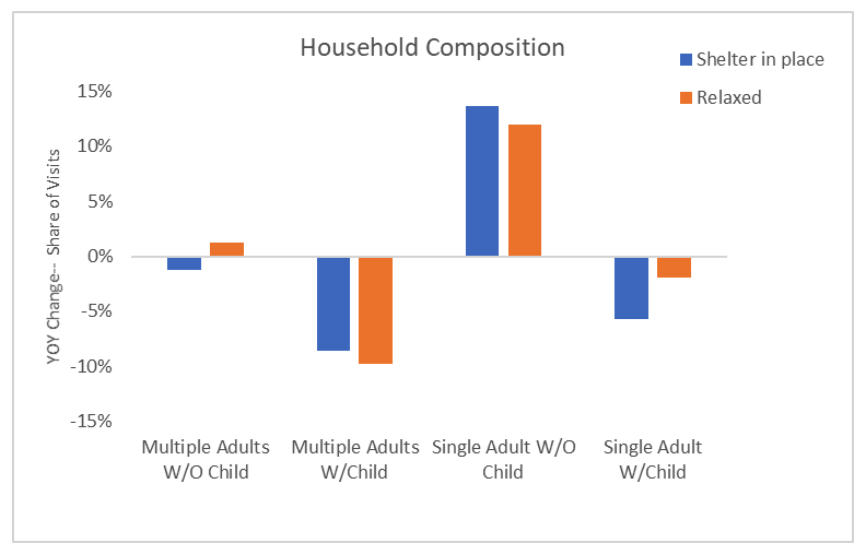 Implications for brand loyalty:
Finally, we used a modeled measure of brand loyalty—to evaluate how the changing customer profile has the potential to impact switching and deal-seeking behaviors. Shoppers with a score of 9 tend to resist change and remain loyal, while those with a score of 0 are deal seekers.
These results are of particular concern for this brand, as there is a strong pattern of shifts to deal seekers away from brand loyalists. This pattern accelerated significantly in the relaxed period versus the shelter in place period, perhaps as a result of sales and specials implemented as a tactic to stem declining foot traffic.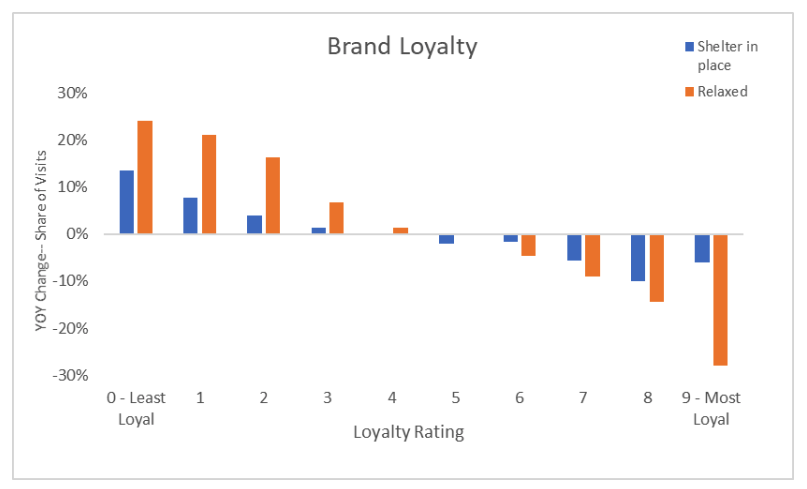 All of these shifts suggest that the net result could well be reduced brand loyalty that persists even after concerns regarding the pandemic lessen over time.  While this will no doubt pose challenging for this retailer (and others), there is also incredible opportunity here for those operators ready to find creative ways to engage with an ever-shifting consumer base.
Follow Intalytics on LinkedIn and Twitter, and contact us to learn more about how predictive analytics and geospatial solutions can help power your business.
Jim Sellers' career spans multiple industries and brands, including senior marketing and sales positions with FedEx, FedEx Office, Procter & Gamble, Coca-Cola, and Royal Bank of Canada. He can be reached at jim.sellers@intalytics.com