Blog
Intalytics Commentary: A Visit to the Local Mall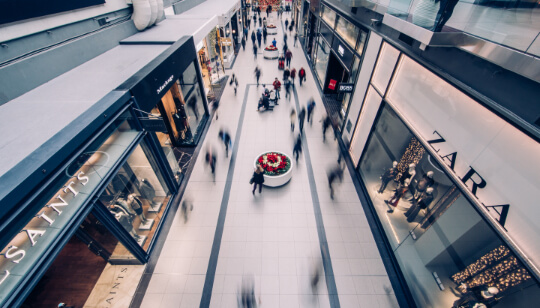 Anyone in the retail or shopping center industry is familiar with the challenges facing the regional shopping center industry today. Countless articles have been written about the future of the mall – how many will close in the next five years, adaptive re-uses of regional shopping center space, etc. As our work is primarily focused on supporting a wide range of retail, restaurant, and services-oriented tenants, we are very familiar with the impact that declining mall performance can have on tenant sales.
As I was running errands this past weekend, I decided to stop by our local mall. I live in Ann Arbor, Michigan (please, no comments about the plight of the Michigan Wolverine football team this season), and visited Briarwood Mall. Until this year, Briarwood had always been considered an "A" mall – a four-anchor, single level enclosed regional shopping center. While Briarwood is an old facility (first developed in 1973), the mall has been well-maintained by its original owner (Taubman) and subsequent owner (Simon).
I was stunned by the changes that have occurred recently.
In addition to losing Sears as an anchor tenant (not a surprise given their travails), I counted no fewer than 17 vacant spaces, representing 20% of the total tenant count. In fairness, the vacancies likely do not represent 20% of total ancillary tenant space, given that the open Forever 21 and H&M stores are large facilities – that said, the number of vacancies was shocking nonetheless. These vacancies were distributed throughout the mall – some were in dead wings, while others were right along the main corridor. Many of the kiosks previously located in the center aisle were also gone – while the initial influx of kiosks gave the mall a "Middle Eastern bazaar" vibe, their absence now brings with it a notable reduction in overall buzz and activity.
There are a variety of reasons why Briarwood is currently suffering from a high vacancy rate. Some of their tenants are actively retrenching on a national level. Gap Inc., which closed their Gap and Banana Republic stores in Briarwood, announced last month that they would be closing 350 stores in North America, while Motherhood Maternity, which closed its Ann Arbor store, filed Chapter 11 bankruptcy late last year. Regional restaurant chain Olga's Kitchen closed their Briarwood Mall store this year, and have obviously been impacted significantly by the effects of the ongoing COVID-19 pandemic. PLAYLive Nation, an in-person gaming studio that replaced a previously shuttered Sephora store, also closed after a relatively short stint at the mall.
I am confident that Briarwood will survive as a viable retail shopping destination, and that Simon will find a suitable re-purposing of the vacant Sears space – be it apartments, hotels, or another use. However, I am equally confident that Briarwood will never return to its former glory days, and that this situation is playing out across the U.S. The roller coaster ride for regional mall operators is far from over.
To learn more about how Intalytics supports mall-based tenants with assessing off-mall growth opportunities, please contact us for more information.