Blog
Measuring the Impact of COVID-19: Grocery Cross-Shopping Through the Peak

As we continue our series of posts on shopping trends in the grocery space, leveraging Massive Mobile Data or MMD also allows Intalytics to measure consumer cross-shopping activity – specifically for this analysis, trips by mobile device owners to more than one grocery store.  Starting with the week ending February 24th as a benchmark, we evaluated the share of visitors to each location who shopped a different grocery store in the preceding week, and then evaluated how these shares changed through the visits peak.
Using customers of High-End grocers as an example, the chart below demonstrates the increase in share of customers visiting a different grocery store, in the same category or different category, for the weeks ending March 16th and 23rd.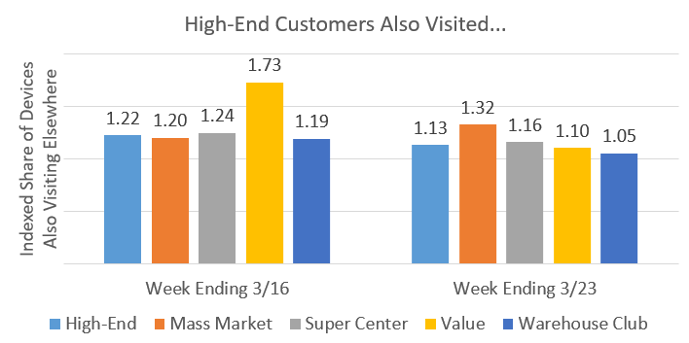 The week ending March 16th is strong for all grocery segments. Other things to note:
The most significant lift in share of cross visits were to Value-Oriented grocers
73% increase in share of High-End shoppers who also shopped at a Value grocer
The share of visitors patronizing other High-End stores is up for both weeks
Charts for the balance of categories are included below. Although all categories demonstrate growth in the proportion of visitors engaging in cross-shopping activity during the week ending March 16th, notable shifts can be seen in customers moving from High-End, Mass Market, and Supercenter grocers to Value-oriented grocers.   Warehouse and Value customers demonstrated segment loyalty as they continued to visit well above average for both weeks.
Interestingly, the highest increase in cross-shopping share was seen among Warehouse Club members shopping other clubs – either of the same brand while trying to stock up, or by visiting other clubs where they held memberships and at a closer time interval than would be typical.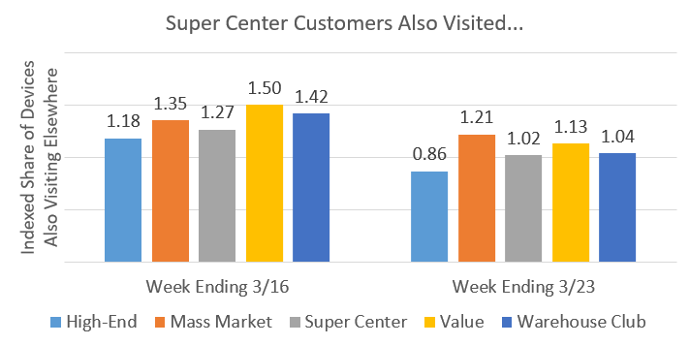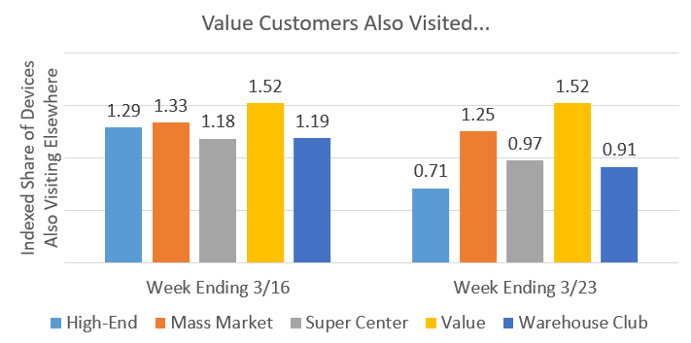 Cross-shopping is important for retailers to understand as they consider co-tenancy for relocations and new store growth. If you are interested in learning how Intalytics leverages data for a similar analysis, contact us.